National Bestseller, The B2B Executive Playbook
This extraordinary book is the Ultimate Weapon for CEOs and the entire leadership for small, medium and global B2B companies.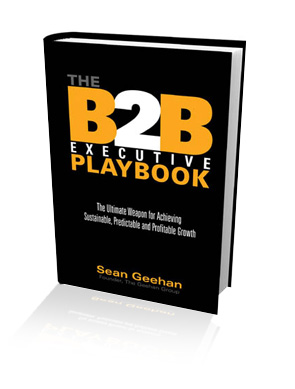 Find out how the fate of your B2B Company rests in the hands of relatively few people, and what you need to do about it.The world for executives in Business to Business (B2B) companies is critically different from the world of their Business to Consumer (B2C) counterparts. All too often B2C strategies and tactics are applied to B2B companies, which leads to disappointing, even disastrous results. B2B requires a completely different playbook.
This book is an absolute necessity if:
Your top customers account for a large amount of your revenue

Your company's margins are being threatened or eroding

You have had new products fall short of revenue, margin and/or market share goals

Relationships with real decision makers of your most important customers are questionable

You struggle to measure the ROI on marketing or R&D programs

Your senior team disagrees on how to move the company forward

Your organization gets activity confused with results
Business strategy books fill bookstore shelves – but none draw attention to the unique ways in which B2B organizations need to strategize and run differently than B2C companies in order to achieve true sustainable, predictable and profitable growth. Geehan goes further by not only identifying those unique differences, but also demonstrating to readers how to apply them with proven approaches from his over 20 years of experience. This groundbreaking work creates a new sub-category for business books.
The B2B Executive Playbook highlights case studies and research from market-leading companies such as Harris Broadcasting, Crown Partners, Henny Penny, Springer, AmerisourceBergen, Intesource, Oracle, and more to prove what practices succeed and why others fail.
The B2B Executive Playbook